Graduate finds her dream apartment at Pembers Hill Park
---
After finishing university, Chloe returned to her family home in Alton, Hampshire. When she got a new job, Chloe decided it was time to find a place of her own and was pleased to discover that Shared Ownership was available in the area she wanted to live in. Chloe now owns a 2-bedroom apartment at our Pembers Hill Park development in the peaceful village of Fair Oak.
She explains how she began her Shared Ownership journey: "When you've just graduated, owning a home feels like it's almost impossible. After moving back in with my parents, I landed a job in Southampton, and I was keen to get a place of my own.
"Having grown up in a market town, Southampton just felt too big a place to call home, so I widened my search area and discovered the Pembers Hill Park development in Fair Oak.  I looked online and very reluctantly dismissed it as I didn't think I'd be eligible for Shared Ownership. Then I visited the area and looked around. Something about it just felt right and familiar.
"I didn't have a lot of funds saved up, but I'd seen case studies and testimonials from other buyers talking about Shared Ownership so I decided to enquire about it. I'm so glad I did. The Abri Homes team was able to talk me through my options and point me towards mortgage advice."
"Shared Ownership is the ideal option for first time buyers like me. I'd looked at other places but if I'd try to buy outright, I would have had to settle for somewhere much smaller. By buying through Shared Ownership, I feel like I've got it all. I haven't had to compromise on anything."
Chloe
Homeowner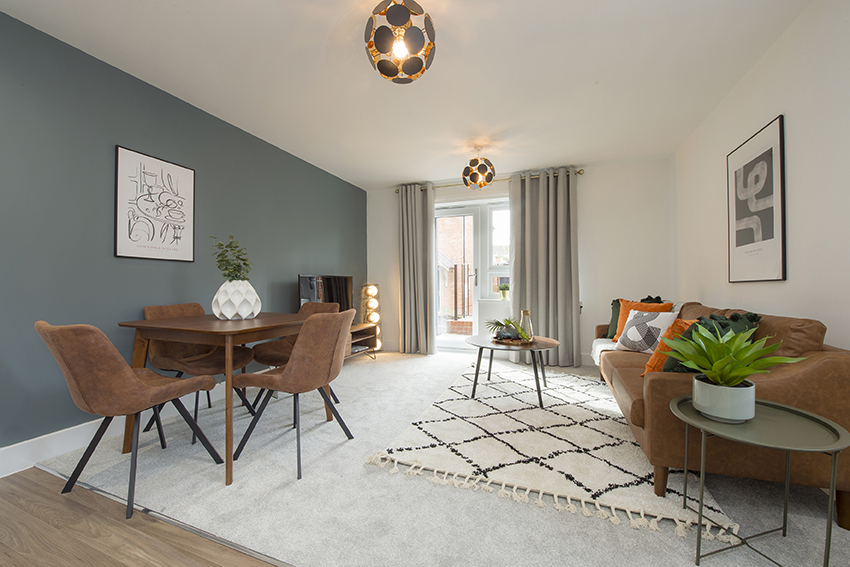 After getting the advice she needed, Chloe found a home that ticked all her boxes:
"I pretty much fell in love with the apartment immediately. As it was the show apartment, it was all decorated and furnished for me and it was ready to move in to. There are two bedrooms, which is great for having friends and family visit. There's allocated parking too, which is important for me because I commute to work. The pandemic and lockdown has made me really grateful that I have got a balcony, there's lovely green space and even a pond on my doorstep.
"Even though Fair Oak is a quiet village it still feels well-connected. There are shops and pubs just down the road, when I want them. I can also hop into my car and get to Eastleigh, and in and out of Southampton for work really easily too.
"The community feel here is great. There's a number of community groups that have been set up and it's easy to meet people and get chatting. When you're new to an area and living on your own that more social element is important. Above all though, I just love having a place of my own.
"Abri made the process of buying really easy. I dealt mainly with Rachel, who was great. She talked me through things step by step and even helped me measure up at the apartment. Lines of communication were always open. I didn't feel like I had to chase things at all.
I feel really lucky – it's a dream to own a home. I love being able to style it all myself and really make it my own!"
New homes are coming soon to Pembers Hill Park. The existing community will benefit from the addition of a collection of one, two and three bedroom apartments and houses in the village of Fair Oak. These new homes are just around the corner from Eastleigh's town centre, which was named as one of the Top 10 Places to Raise a Child. What's more, Southampton Airport is just a 15 minutes' drive away.