Air source heat pumps – FAQs
---
With energy bills on the rise, lots of us are looking for ways to keep our costs low, while still keeping our homes warm. Air source heat pumps are becoming a popular route for sustainable heating, but what does it mean? We've broken it all down for you in this blog post.
What is an air source heat pump?
Rather than burning fuel like gas and electric heating systems, air source heat pumps simply move energy from outside into your home. They heat the air or water in your heating system. This is an efficient, affordable system – and not to mention better for the planet, too.
Air source heat pumps are just like your fridge – but backwards. Instead of bringing in warm air and making it cool, your heating system will bring in warm or cold air and make it hot.
There are two main types of air source heat pump: 'air to air' and 'air to water'. There's lots of helpful resources online about both, so make sure to read up before installing one of these systems, or buying a new home fitted with one.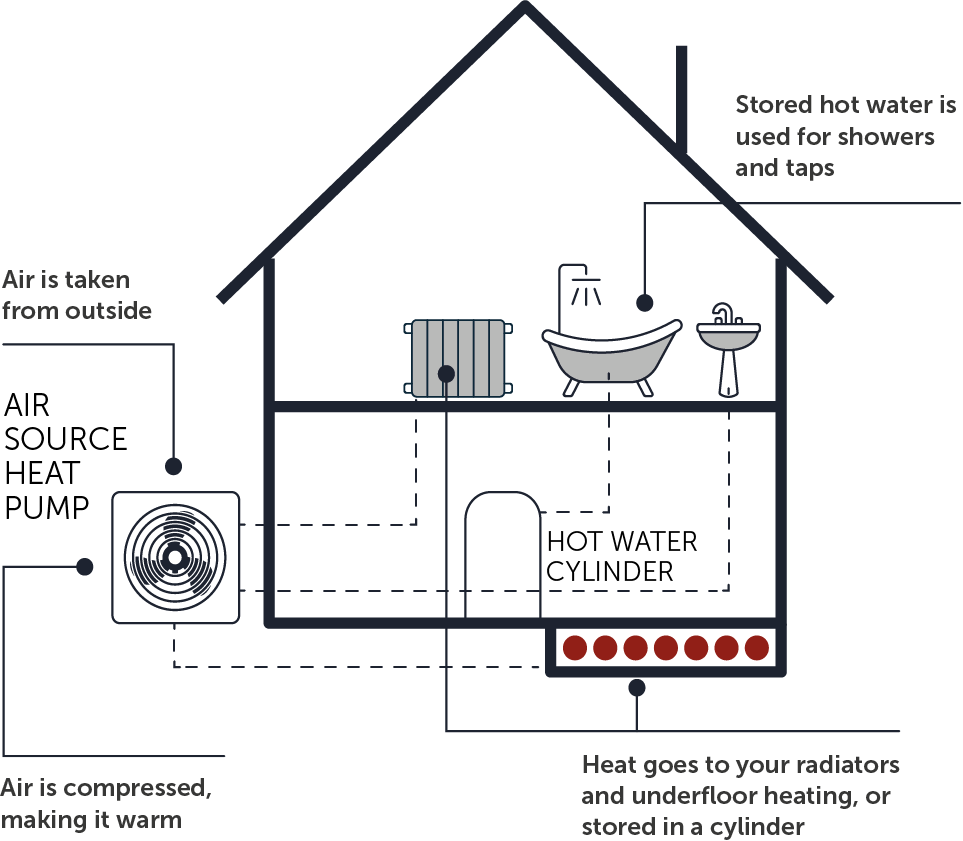 How does it work day-to-day?
Air source heat pumps are designed to keep your home at a constant temperature, so even in the colder months your home will stay warm. The system should adjust automatically, maximising efficiency, as it's designed as a 'fit and forget' technology.
Are they safe and easy to use?
Just like all heating systems, sticking to a few simple rules and reading your user guide means your air source heat pumps will be safe and simple to use.
It's also important to get your air source heat pumps professionally serviced regularly, just like a traditional boiler.
You should never block, cover or remove your air source heat pump grills, as they are an important feature of your home and need to be able to let air flow freely.
This heating system works best when there's less of a difference between the heat inside and outside of your home. It may take a little longer to get warm water, radiators and floors. So, for the best results just leave it running. Worried about the winter months? Air source heat pumps work even on the coldest days, and are designed to work at temperatures as low as -25°C.
The good news is that air source heat pumps are one of the most efficient heating solutions out there. A traditional boiler has just a 90% efficiency rate, compared to the 350% of an air source heat pump*. And with fuel prices on the rise, it's a great way to future proof your home.
What are the benefits of air source heat pumps?
There are plenty of benefits to having this system, including*:
efficient heating and hot water system
renewable, low-carbon energy
similar running costs to a gas or oil boiler
low maintenance.
How much will it cost to run?
The air source heat pump system will approximately cost the same as a traditional boiler. However, as the only electricity needed is for the compressor, it should use less power than the heat it produces.
As a renewable heating system, it should be less impacted by fuel prices rising than a traditional boiler, too.
Can an air source heat pump work with other renewable heating and energy sources?
Absolutely. Air source heat pumps work very well with other renewable energy sources, from MVHR (mechanical ventilation heat recovery), solar thermal and solar panels. So, if you're looking to make further changes to your home, your heating system will fit right in.
Will it be noisy?
No – your air source heat pump shouldn't be much louder than your fridge.
More of our new homes will be fitted with renewable energy features, including electric charging points and air source heat pumps. So, if you're looking for an energy-efficient property, take a look at these developments across the south and south west.